Hello!
I'm Ei Phyo Mon and working as an Administrator at Spiceworks Myanmar. Today I would like to share about Planning and Strategic Management.
Firstly,
Strategic Management
A process that involves managers from all parts of the organization in the formulation and implementation of strategic goals and strategies.
Including the Levels of Planning are as following;
 Strategic Planning
Tactical and Operational Planning
Aligning Tactical, Operational and Strategic Planning
Strategic Planning
 – Establishment of Mission, Vision and Goals.
 – Analysis of external opportunities & threats.
 – Analysis of internal strengths and weaknesses
 – SWOT (strengths, weaknesses, opportunities and threats) analysis and strategy formulation.
 – Strategy implementation.
 – Strategic control
Tactical and Operational Planning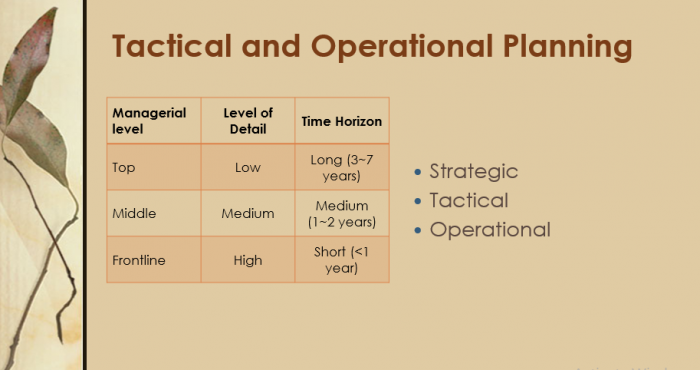 Aligning Tactical, Operational and Strategic Planning
Their ability to grow and learn (learning & growth goals)
The effectiveness of its internal processes (internal goals)
Its ability to deliver value to customers (customer goal)
Ultimately its ability to grow its financial assets (financial goal)
The basic Planning Process
* Situational Analysis
* Alternative Goals& Plans
* Goal & Plan Evaluation
* Goal and Plan Selection
* Implementation
* Monitor & Control
Strategic vision
– The long-term direction and strategic intent of a company.
– The strategic vision points to the future– where the organization is headed and what it can become.
Strategic  Goals
~Strategic goals evolve from the mission of the organization.
Goal
Goals are the targets or ends the manager wants to reach to be effective, goals should have certain qualities, which are easy to remember with the acronym SMART.
Specific
Measurable
Attainable
Relevant
Time-bound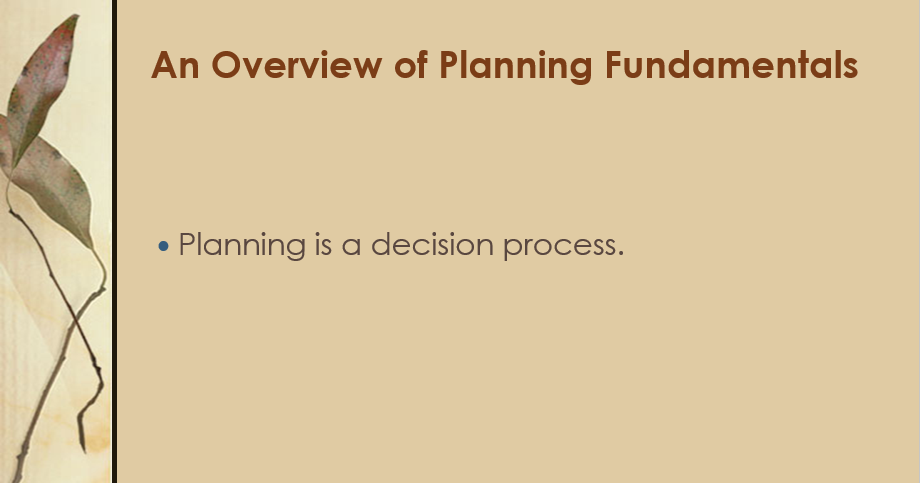 I hope you will enjoy to read this post and next time I will share more interesting post! 
Good Day to You!